Supports a SINGLE monitor screen

Supports a SINGLE monitor screen

Portable, easy to transition – easy to carry

Portable, easy to transition – easy to carry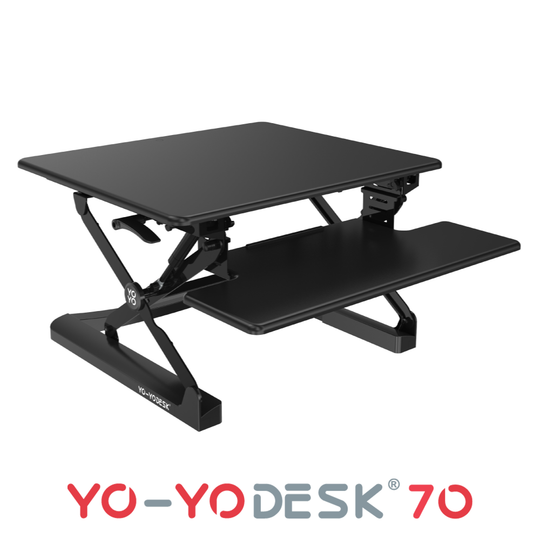 Supports a SINGLE monitor screen

Supports a SINGLE monitor screen

Black or White. 3-year warranty

Black or White. 3-year warranty
Supports a SINGLE monitor screen

Supports a SINGLE monitor screen

Thinner depth of 40cm. Best-SellerThinner depth of 40cm. Best-Seller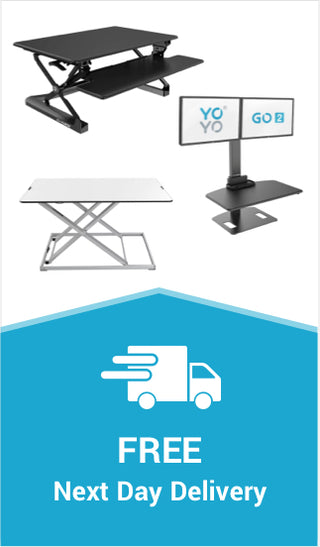 Supports SINGLE or DUAL monitor screens

Supports SINGLE or DUAL monitor screens

Split level worktop 89cm wide. Best-SellerSplit level worktop 89cm wide. Best-Seller
SINGLE monitor sit-stand solution

SINGLE monitor sit-stand solution

Optimal ergonomics

Optimal ergonomics
DUAL monitor screens

DUAL monitor screens

FREE Delivery. 3-Year Warranty

FREE Delivery. 3-Year Warranty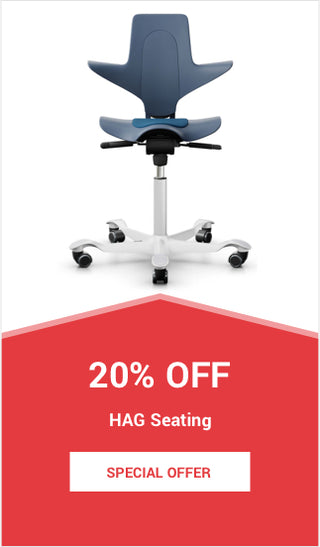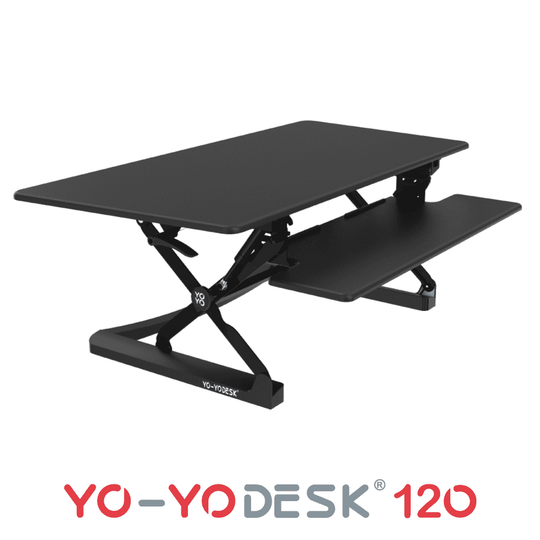 Extra desk space: 120cm (W) x 59cm (D)

Extra desk space: 120cm (W) x 59cm (D)

Easy install (5 minutes)

Easy install (5 minutes)
Supports SINGLE or DUAL monitor screens

Supports SINGLE or DUAL monitor screens

30 adjustable heights

30 adjustable heights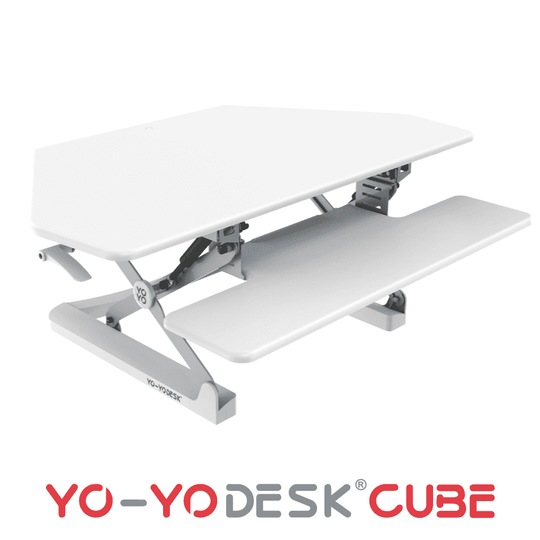 Adjustable height corner desk riser

Adjustable height corner desk riser

Black or White. 3-year warranty

Black or White. 3-year warranty
Corner desk design adjusts to any user height

Corner desk design adjusts to any user height

3-year warranty

3-year warranty
Supports a SINGLE monitor screen

Supports a SINGLE monitor screen

Black, Grey or White. 3-year warranty

Black, Grey or White. 3-year warranty
30-adjustable heights

30-adjustable heights

FREE Delivery. 3-Year Warranty

FREE Delivery. 3-Year Warranty
Supports SINGLE or DUAL monitor screens

Supports SINGLE or DUAL monitor screens

Stylish plywood edging. 3-Year warranty

Stylish plywood edging. 3-Year warranty
Why Yo-Yo DESK®?

UK's #1
Britain's favourite Standing Desk company
Telegraph Newspaper
"Best Buy"

Free Shipping & Installation
Free Shipping*
All desks installed free*
On all items, excluding desktops

Sustainability Certified
FSC Certified. Electric Cars. Renewable Energy

Eco Supply Chain
Recycled Materials. Recyclable packaging

Extra Offers
50% OFF Mats. £200 OFF if you spend £1,500

Free Shipping & Installation
Free Shipping*
All desks installed free*
On all items, excluding desktops

Bundle Offers
Save up to £100 extra if purchased with a Desk
Yo-Yo DESKERS
Join the workplace revolution for improved wellness and productivity. Keep moving!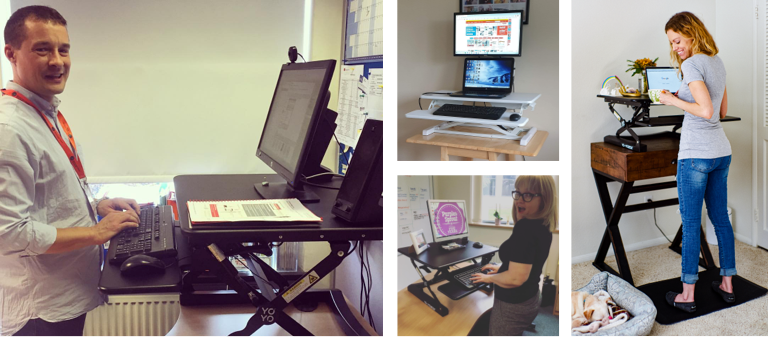 Millions of Office Workers now enjoy the Benefits of Active Working. Join the Workplace Revolution TODAY
UK's #1
Britain's Favourite Standing Desk
1 in every 10 sit-stand desks sold, is a Yo-Yo DESK®
90%
of office workers in Denmark have a Sit-Stand desk
It's a legal requirement for every office worker
10 Marathons
Convert 2 HOURS of sitting to standing each day
to burn calories equivalent to 10 marathons over a year
Quick Info
What is a Desk Riser?
A desk riser, or desk converter, sits on top of an existing desk, table, or worktop, instantly converting it into a Sit-Stand desk
Desk risers enable the user to spend time both sitting and standing at your desk. They offer plenty of room for a keyboard, screen, and other necessary materials
Minimal or no installation required as they are ready to use straight from the box
A simple, low-cost way to enjoy the benefits of sit-stand working
Yo-Yo DESK® risers are all manually operated using spring-assisted handles, making them simple to move up or down
How does a sedentary lifestyle affect your health?
International research evidence informs us that extended periods of inactivity during our working hours can have detrimental effects on both our mental and physical health.
Some of the risks include muscular degeneration; disrupted blood sugar levels; increased insulin levels; raised blood pressure; lowered calorie burn; slow metabolism.
Even active people are at risk of prolonged sedentary working habits - including heart disease, diabetes, weight gain, certain cancers, back pain, dementia, and depression.
Pros and cons of buying a standing desk converter
Below we list some key advantages, but check out what our customers think by reading our Trustpilot reviews
A standing desk converter is a low-cost solution to enjoy the benefits of Sit-Stand working

Allows you to quickly transform any workstation into a health boosting standing desk.

Yo-Yo DESK® risers arrive within 1-2 days (depending on model and availability) and are ready to use out of the box (simply attach keyboard using the toolkit provided).

A Yo-Yo DESK® riser is robust and stable, enabling you to work from a seated or standing position with zero wobble.

We offer 50% OFF all Active Feet Solutions with any standing desk, to encourage all our customers to keep moving more

Word of warning - you may find you love sit-stand working so much you wish to upgrade from a manually operated desk riser / converter to a full electric standing desk.
Standing desk converter vs electric desk
Electric standing desks require assembly / installation, but why not take advantage of the Yo-Yo DESK® FREE Installation service. Also, we recommend you choose a cable management system to manage wires from any electric standing desk and computer equipment.
Electric sit-stand desks take up more space as they include legs and full desktop, so you may consider replacing your existing desk, or desk frame (as we can recycle your existing desktop for you)
A stand-up desk converter requires no installation and is a low-cost way of enjoying the benefits of sit-stand working without having to rethink your office layout
Always double check the size and heigh-adjustment range of the model you have selected and make sure it will fit on top of your existing desktop, and that it has a height-adjustment range sufficient for your body height. We offer standing desk risers, such as the Yo-Yo DESK® GO, more appropriate for taller users.
Different types of desk converter
Desk converters fall into one of three categories:
Converter solutions which are more robust and sturdier as the Yo-Yo DESK® CLASSIC or Yo-Yo DESK® SLIM which transforms any workstation into a Sit-Stand desk;

If you need a portable standing desk converter that can be packed away when not in use, choose a lightweight, portable model, such as the Yo-Yo DESK® LITE.

If you need greater height adjustment range, try the Yo-Yo DESK® GO, more appropriate for taller users.
Expert advice about desk converters
Internationally, health experts now recommend reducing sitting time and increasing activity whilst at work. Desk converters are a quick, low-cost, effective way to stand more without having to completely reorganize your workplace.
We recommend getting up every 30 minutes and start off your day working from a standing position while you check your emails and diary for the day. Then switch to a seated position for in-depth report writing, then back to standing when you take and make phone calls.
Video meetings are best made from a standing position as this helps keep you alert, creative and motivated. You can also stretch and move when you are listening in. And remember Stand-up meetings tend to run more efficiently and finish sooner.
Avoid the post-lunch energy slump by spending a period working with your desk riser in the upright position, and always leave your desk in the 'up' position when you leave your office for the day. This will remind you to start your morning working from your feet, especially if you have a sedentary commute.
If you compliment your desk converter with an anti-fatigue mat you will be likely to adopt even more micro-movements while you are on your feet, protecting joints and reducing fatigue. This improves the health benefits of a standing desk converter.
Expert advice about using a standing desk
Before getting started at a standing desk (or height adjustable desk) it is essential to first understand the benefits and best practice guidance on how to use it optimally. Yo-Yo DESK® founder, Gavin Bradley, is an international thought leader and donated much of his passion and time to the Active Working CIC social enterprise. Gavin hosts the annual international Active Working Summit bringing together scientists, stakeholders and workplace experts.
Gavin and key international experts recommend:
Take regular mini breaks throughout your workday, and make sure you avoid "prolonged sitting" for bouts of 30 minutes or longer

Also avoid prolonged static positions (sitting or standing) to maintain positive mental and physical health and remember "your best position is your next position"

When using a keyboard – always make sure your wrists are never ABOVE your elbows. And ideally not more than 2cm BELOW your elbows

Try to maintain a "meerkat position" when standing, but keep light on your feet, and use an antifatigue mat to promote more movement

Stretch, use the stairs and walk around (especially when on the phone)

Movement throughout your workday will help prevent aches, boost your metabolism and improve your wellness
What things should be considered before buying a desk converter?
What space do you have available?
Desk top converters come in a range of shapes and sizes, including CUBE solutions for corner desks to maximise space. Check the base footprint of the desk riser you are considering ensuring it will fit securely on your existing desktop. It is not recommended to site a desk riser on a glass table or desktop.
How many screens do you need to accommodate?
If using dual screens, we recommend you choose either the Yo-Yo DESK® 90 or Yo-Yo DESK® GO 2 standing desk converters.
The Yo-Yo DESK® GO, are recommended for taller users over 6' 2" (185cm). Check our product pages for further details.
How often will be you using your desk riser?
If it needs to be packed away between work sessions, or if you are short of space while homeworking, consider getting a foldable desk converter such as the Yo-Yo DESK® LITE.
What complimentary solutions should I consider?
We always recommend you use an anti-fatigue mat with any of our Sit-Stand desks and remember we offer them at 50% off all Active Feet solutions with each of our standing desks. Remember also to think about your seating options.
When evaluating seating options try to consider a perch stool or active chair solutions as these will reduce the tendency to sit for prolonged periods and encourage you to move your core muscles when seated.
Installation tips
Remember we offer a FREE installation service with all our desks.
However, if you wish to buy a sit stand desk converter, all Yo-Yo DESK® risers are ready to use almost straight from the box. Simply attach the keyboard tray using the screws and screwdriver supplied and you are ready to go. You may need help to lift your desk riser into place.
Top Tips and Guidance when using a Standing Desk
All Yo-Yo DESK® risers arrive with expert user guidelines to ensure you get the most out of your standing desk.
If you are a stand-up desk newbie, start gently, gradually increasing the amount of time you spend standing. This will ease joint and muscle ache and help your body get used to active working habits.
We recommend:
Take regular mini breaks throughout your workday, and make sure you avoid "prolonged sitting" for bouts of 30 minutes or longer

Also avoid prolonged static positions (sitting or standing) to maintain positive mental and physical health and remember "your best position is your next position"