Why Yo-Yo DESK®?

UK's #1
Britain's favourite Standing Desk company
Telegraph Newspaper
"Best Buy"

Free Shipping & Installation
Free Shipping*
All standing desks installed free*
On all items, excluding desktops

Sustainability Certified
FSC Certified. Electric Cars. Renewable Energy

Eco Supply Chain
Recycled Materials. Recyclable packaging

Extra Offers
50% OFF Mats. £200 OFF if you spend £1,500

Free Shipping & Installation
Free Shipping*
All desks installed free*
On all items, excluding desktops

Bundle Offers
Save up to £100 extra if purchased with a Desk
Yo-Yo DESKERS
Join the workplace revolution with your standing desk. Keep moving for improved wellness and productivity.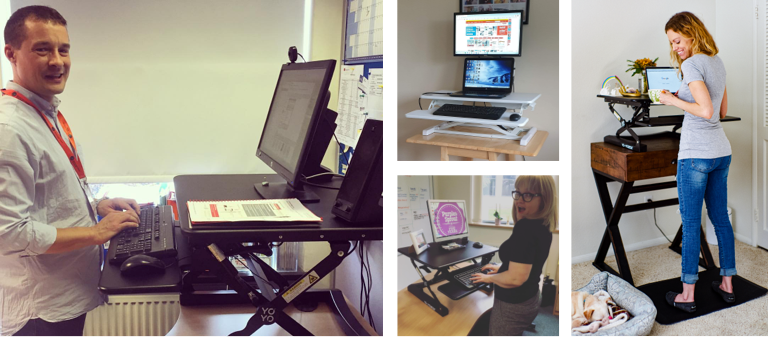 Millions of Office Workers now enjoy the Benefits of Active Working. Join the Workplace Revolution TODAY
UK's #1
Britain's Favourite Standing Desk
1 in every 10 sit-stand desks sold, is a Yo-Yo DESK®
90%
of office workers in Denmark have a Sit-Stand desk
It's a legal requirement for every office worker
10 Marathons
Convert 2 HOURS of sitting to standing each day
to burn calories equivalent to 10 marathons over a year
Quick Info
CONSIDERATIONS BEFORE PURCHASING AN OFFICE CHAIR?
IMPORTANT: a chair which encourages you to sit for longer and/or uninterrupted periods will harm your body, mind and back health. We strongly recommend seating solutions which promote movement and restrict prolonged sitting.
Unconventional though it may sound, experts now recommend that a chair you work from must encourage you to move easily and get up and out more frequently so you can stand more and sit less. Yo-Yo DESK® offer a wide variety of Active Seating and task executive office chairs to keep you moving and sitting dynamically.
Active Stools and Chairs are ergonomically designed to focus on encouraging movement – especially the core and back muscles. You are investing in a product that will improve workflow and benefit your overall health thanks to a range of chiropractor approved designs. Browse here for a fine choice of active stools and active chairs in a variety of colour and material finishes. Our solutions offer sustainability benefits and are made from recycled materials.
ARE ACTIVE CHAIRS WORTH IT?
Our executive office chairs are designed for those looking for a healthy yet stylish, comfortable addition to their workspace. Ideal for offices or home offices, our range of active office chairs and stools focus on function & design sophistication, with plenty of colours and sizes to choose from.
If you spend most of the day at your desk, it is important to remember to move as much as you can throughout the day. Avoid sitting too comfortably for prolonged periods as this will result in general, mental and back health issues.
For task seating or executive office we recommend lumbar support to maintain good posture whist you work. For users who have reasonable back and physical health we do not advise chairs with armrests as they may encourage you to sit for longer periods.
When investing in your office set-up, we recommend you focus your investment first on the desk, and secondly on the seating option. If you are able to stand at your desk you need a seating solution which allows you to rest for short periods. Frequent transition between sitting and standing will result in greater metabolic rate, oxygen flow to the brain, improved posture and greater all round health benefits (including back health).
TOP 4 BENEFITS
Avoid Prolonged Sitting
The health risk